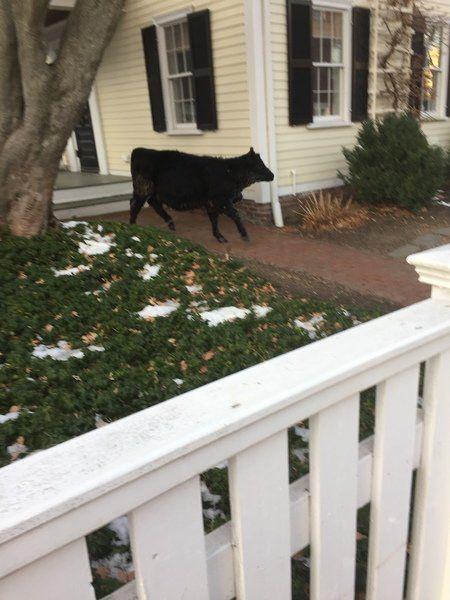 NEWBURYPORT – For a short time Thursday morning there were two black cows in downtown Newburyport as a rogue black angus from a Newbury farm was captured where the city's parking garage is to be built off Merrimac Street.
According to Animal Control Officer Scott Purdie, three cows escaped Tendercrop Farm sometime Wednesday night. After a lengthy search, two of the cows were found by Newbury police and returned. But the third one made it into downtown Newburyport, a stone's throw from the Black Cow restaurant.
Purdie said he spotted it around 8 a.m. along the waterfront and began chasing it on Water Street and through Market Square before leading it into the mostly fenced-in area where the city's parking garage will be built.
"He was fast," Purdy said.
For more than an hour, the cow remained inside the fenced in area as a trailer was dispatched from the farm. Once the trailer arrived, bovine was escorted inside, just before 10 a.m.
Let's block ads! (Why?)