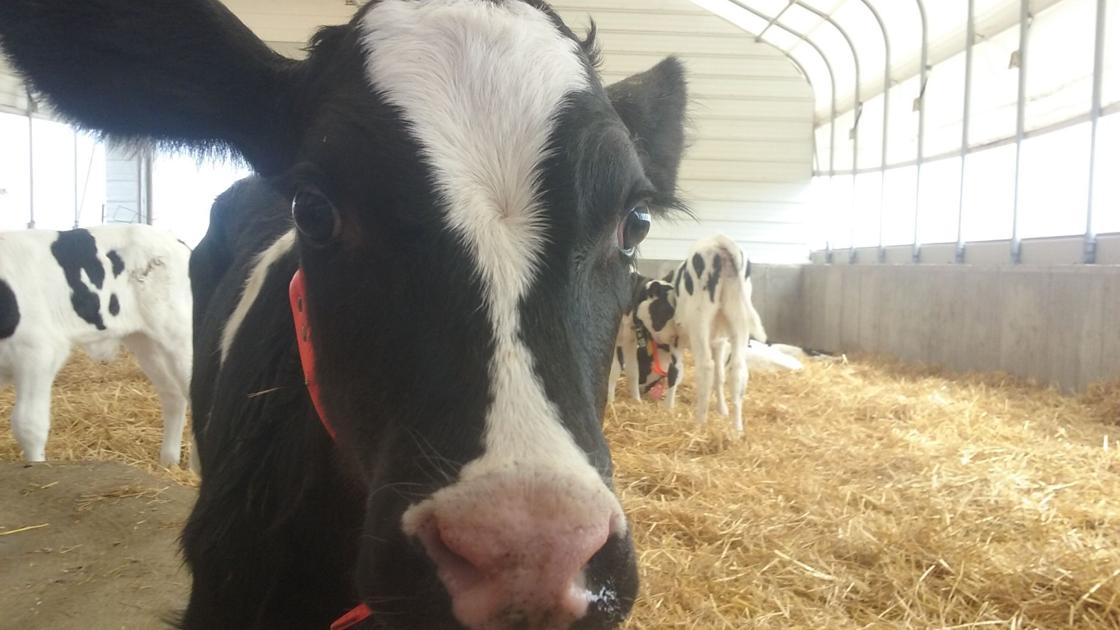 It turns out that old commercial was right. The best milk really does come from contented cows.
At the Villa Rosa dairy farm near Greenville, 50 miles east of St. Louis, the cows themselves decide when they want to be milked. It's completely voluntary for them. When they feel the need to be milked, or maybe when they just want a nutrition-dense treat — it's sweeter, saltier and tastier than their regular food — they walk up to a robotic milking machine.
Brothers Kurt and Kyle Johnson own Villa Rosa. With 120 Holstein cows, it's about half the size of an average dairy farm. But as they recently explained to 50 or so dietetic students from St. Louis University, Fontbonne University and the St. Louis VA Medical Center, their production is up because their cows are happier and free from stress.
"A lot of the production gains over the years come down to cow comfort. It's not rocket science," Kurt Johnson said.
But the facility is a lot more high tech than that. Villa Rosa was the first dairy farm in Illinois to use a robotic milking system when they installed it eight years ago. There are still only 50 robotic milking machines in the state, and they have two of them.
The robots make the cows happy and the farmers happier, because they don't have to wake up at 4 a.m. anymore to do the morning's milking, they said.
The machine milks the cows while they eat. Because they come and go as they please, the cows aren't standing around waiting to be milked, which often happens with a traditional milking parlor. If they feel like it, and a significant number of the cows do, they can even eat and be milked at all hours of the night.
The cows are tagged with an electronic chip that tells the machine how much of the special food pellets to give them, based on how much milk they have been producing (the more they produce, the more calories they need) and how much of the regular feed they have eaten, Johnson said.
The tags keep track of how much milk each cow produces, how much they move around and how often they chew their cud.
Cows tend to chew their cud less when they are ill, so if they aren't working their jaw muscles as often as usual the farmers can diagnose that they are sick before they present other symptoms. And cows also move more restlessly when they are in heat, so showing how much they move can tell the farmers when they are ready for breeding, the brothers said.
Dairy farming is all about breeding. Cows produce milk for only about 10 or 11 months after they have had a calf. When they are dry, they are put out to pasture for two or three months until they are ready to be bred again.
Since installing the two robotic milking machines, the Johnson brothers say they have seen the production of milk rise about 10 pounds per cow each day, to about 75 pounds per cow (a gallon of milk weighs 8.6 pounds, so they are now averaging about 8¾ gallons of milk per cow).
Part of the reason for the increase is that the more the cows are milked, the more they produce. But also, the Johnsons said, they make more milk when they are happier.
So why don't more dairy farms switch to robotic milkers? One reason is the cost. Each of the two Villa Rosa milkers can handle 60 cows a day and costs $200,000. The farm also spends about $10,000 a year to maintain them both.
By law, antibiotics cannot be mixed into a dairy cow's feed. And when a cow is treated with antibiotics, such as for a common udder infection called mastitis, it will still be milked but the milk is immediately flushed down a drain. The milk is tested for antibiotics at both the farm and the dairy it is sent to; if a mistake is made, they'd lose the entire truckload and they'd still have to pay for its transportation and disposal.
The farm also refrains from using hormones. Although it is not illegal to do so, Johnson said, "I don't know a single farmer who puts hormones in the feed. The consumer has decided that you guys don't want it," he said.
The price of milk is higher because hormones are not being used, but the consumers are happier. And like happy cows, it's important to have happy consumers.
Let's block ads! (Why?)