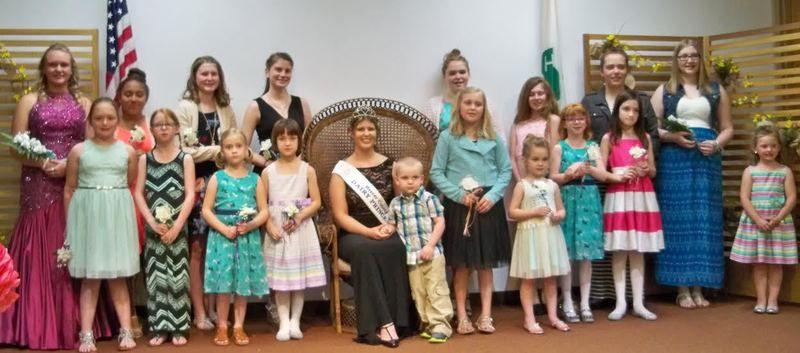 Jocelyn Snyder, Greenville, was crowned the 2017-2018 Mercer County Dairy Princess at the annual county pageant. She is the daughter of Paula Snyder and the late Todd Snyder.
The 2016-17 Mercer County Dairy Princess, Josie Canon, crowned the new princess as one of her last duties while serving the Mercer County dairy industry.
Becoming the dairy princess has always been Snyder's goal. She has participated in the dairy princess program since age 4 when she served as one of the flower presenters.
Through the years she shared her enthusiasm for dairy promotion and the dairy industry through her work in the dairy princess program.
In her speech, Snyder shared the challenges she and her family have operating their small dairy farm. Her mother, sister and she operate the farm.
Snyder talked about being in charge of calving at the farm and the details that she and other dairy farmers need to know to care for cows giving birth and for the care of newborn calves.
She is looking forward to sharing her passion for dairy over the next year.
Her skit portrayed Goldilocks raiding the refrigerator in a dairy farmer's kitchen.
There she found just what she needed to get her serving of three dairy products a day.
"Don't forget, get your three dairy a day," Snyder told the audience.
2013- 2014 Pennsylvania Alternate Dairy Princess Brooke George served as master of ceremonies for the program that included a song by the Dairy Darlings; skits by the Dairy Delights; speeches by the Dairy Maids and a multi-media presentation by the Dairy Ambassador.
Dairy Darlings are: Lydia Hill, daughter of Troy and Michelle Hill, Sandy Lake; Grace Kaufman, daughter of Paul and Brandy Kaufman, Greenville; and McKinleigh Mase, daughter of Garrett and Maggie Mase, Cochranton.
Dairy Delights are: Abigail, Grace and Ruth Brownlee, daughters of Bill and Lynde Brownlee, Transfer; Katelyn Kaufman, daughter of Paul and Brandy Kaufman; and Makenna Mase, daughter of Garrett and Maggie Mase.
Dairy Maids are: Emma Devine, daughter of John and Diane Devine, Volant; Rebekah Leise, daughter of Pete Leise and the late Elaine Leise, Greenville; Kalle Prinkey, daughter of Kevin and Carrie Prinkey, Hermitage; Ashlee Riley, daughter of Dan and Kristine Riley, Greenville; Hannah Sturgin, daughter of Raymond and Paula Sturgin, Fredonia; and Callie Whiting, daughter of Maggie Whiting, Pulaski.
Dairy Ambassador is: Rachel Welch, daughter of Chad Welch and Diane Ealy, Sharpsville.
The dairy princess will participate in the annual state dairy princess seminar in July and will compete for state dairy princess in the fall.
Throughout the summer she and other dairy pageant participants will appear in parades, serving ice cream at festivals and fairs and promoting dairy products and the dairy industry around Mercer County.
Carol Ann Gregg is a freelance writer focusing on agriculture and business.
Let's block ads! (Why?)