November 14, 2020 — 12.00am
High in the ether two wedgetailed eagles soar, silhouetted on the blue, circling for prey. Last summer there was one. Now they're a pair. This alone lifts the spirits. Huge, metres across, they're also tiny. Five ravens, tinier still, nip and harry them, spitfires versus bombers. But the wedgies, sublimely unbothered by these pesky avian peasants, circle lazily on. From where I sit, coffee in hand on the broad paintless timber stair, I make them my spirit animals. For a moment we soar as one.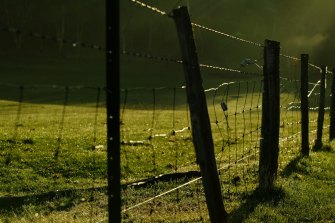 Back on earth, men are at work. This too is a pleasure, men doing your bidding – paid, naturally. One lot is sweatily replacing the northern dog-leg fence, ripping out its gnarled and bearded hardwood posts. Another tiles the wet-room. As Tuesday mornings go, this is a good one.
But the serenity cannot last, and doesn't. On the edge of the distant forest something catches my eye. A small group of black-and-white blobs drifts along a treeline. It's not my property but they're unmistakably my cattle. The old adage writes itself across my mind's sky. Good fences make good neighbours. And bad fences? Or no fences at all …? Dammit. Time for boots.
We'd arrived the previous dusk. I'd never seen the valley like this, a sea of waving grasses. In the buttery light it was almost too green, almost vulgar – the ubiquitous emerald more Ireland or Aotearoa, somehow, than the demure grey-greens of NSW. It should shine through the grey misted atmosphere not burst at you under a flawless sky.
True, at a macro-level, this bucolic departure seems only fair. The countryside suffered inordinately during last summer's catastrophic fires. Pandemic, impacting the city far more, slightly evened things out. And the glorious wet spring, more so.
In January my neighbours here were trucking hay in from Victoria at vast expense and through thick orange smoke. Now the sky is clear, the grass is high, beef-prices higher and property values higher still. Tradies are flat out. Suddenly, it seems, everyone wants a home among the gum trees.
But beneath the pastoral idyll lurks a mess of micro-dramas, not least, fencing.
My neighbour is new. New to the valley and – like me – to farming. But you needn't tarry long inside the farming mindset before you see grass as food.
I've grown to love and admire grass, especially the native version which has countless varieties and at least two growing seasons. Most are perennials, so they sequester carbon, conserve water and build soil; some seed in the autumn, some in the spring.
I try to count the species, which is harder than you'd think – I'd say around 20. I try to memorise which seed shape goes with which habit, which season, which food value. Some, like Microlaena and (best name) Hairy Panic, are good grazing fodder, with high protein content and digestibility. Others, like Windmill grass and Rats Tail grass, are good colonisers but don't play well with others.
Many of these grasses – or at least their seeds – are edible for humans, as thousands of years of Indigenous culture and recent studies agree. Harvesting these on a commercial scale, though, implies a speed of harvest that they cannot deliver and the vast treeless monocultures of typical grain fields, with their chemical dependence and their environmental destruction. So I'm still interested, right now, in bringing my cattle home and keeping them there. That means fences.
This sounds simple. How hard can it be to erect a few posts and wires? Quite hard, as it turns out. Physically, yes – but also politically. Not surprisingly, there are conventions about these things. Just as, when a property boundary is formed by a creek, the time-honoured "give and take" system zigzags across the creek giving part of it to one owner and part to the other, so it is with fences. The custom is for each neighbour to take care-and-control of half the fence.
That's sensible, but it's not what we did. What we did, my neighbour and I, was get three quotes, agree a price and a contractor and expect simply to share costs. Perhaps, from that point, it was inevitable that, the instant the old fence was removed, my cattle would escape; that the contractors would look at me and shrug, that the cattle would get stubborn and refuse all threats and entreaties to return. Quite likely, despite the men's reassuring predictions, they were never going to find their way back to the home paddock.
Perhaps, too, it was inevitable that they unilaterally expand their brief and demolish an extra 50 metres of fence, exposing my beloved trees to bovine marauders, leaving our farm like a house with the wall removed.
Perhaps too, then, it was inevitable that the day was bookended by a road turtle. From the grand predator's bluesky dreaming, through a middle muddied by cussed bovine mammals and more cussed primates, to the urgent pathos of turtle on hot tarmac, this has been a day defined by critters.
We stop, of course. The turtle immediately disappears its head so only by studying the claws can you tell its desired direction. Even so, you try to help, it pees long and hard on your shoes. Nice and stinky all the way home.
So perhaps the turtle is my real spirit animal, its moral something about not soaring but dawdling. Or perhaps it's that collaborators should first agree their direction of travel? Then again, maybe I should simply give thanks that none of the wild critters I met that nice relaxing country day was a snake in the waving thigh-high grass.
Start your day informed
Our Morning Edition newsletter is a curated guide to the most important and interesting stories, analysis and insights. Sign up to The Sydney Morning Herald's newsletter here, The Age's here, Brisbane Times' here, and WAtoday's here.
Elizabeth Farrelly is a Sydney-based columnist and author who holds a PhD in architecture and several international writing awards. She is a former editor and Sydney City Councilor. Her books include 'Glenn Murcutt: Three Houses', 'Blubberland; the dangers of happiness' and 'Caro Was Here', crime fiction for children (2014).
Let's block ads! (Why?)