HIGH POINT — Without sacrificing good taste, area rugs are joining the list of vegan products. No animal products or byproducts used here.
"We're capitalizing on cow-friendly hides," Blake Dennard, senior vice president of Kaleen Rugs, told Furniture Today. "Our new Chaps collection answers to the growing population on the vegan side."
Chaps, which Kaleen launched at the recent High Point Market, is a collection of replica cowhides handmade in India of viscose and wool.
"No cowhides were used in the making of this product," the company stressed.
Nor for Kas Rugs' new indoor-outdoor selection of animal-inspired rugs. The Provo collection encompasses textured machine-woven rugs made of UV-treated polypropylene and featuring a variety of spotted skin patterns.
Capel Rugs' Luxe Shag collection of animal looks presents "a new take on shags" with its longer acrylic/polyester fibers. Plus, added Cameron Capel, president of sales and marketing, these pieces "can even be cut into a pelt shape."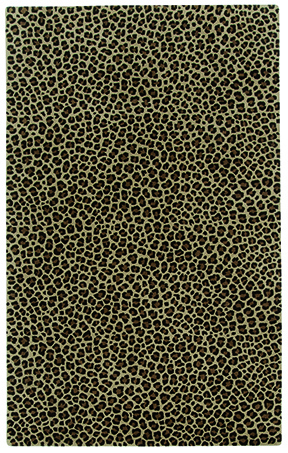 Capel Rugs, Safari Leopard rug by Kevin O'Brien
The company has several other species of animal-friendly rugs, like the machine-made Leopard that is based on a textile design by Kevin O'Brien, a licensee of Capel Rugs for the past eight years.
Animal prints, O'Brien said, "connect with us on several levels. … Even though they have a practical purpose for the animal, they are naturally elegant and by definition perfect.
"In our DNA, there is a connection to the wild origins of our own species, and the wildness is still very much present in these animals," he added. "We revere the primal nature of these beautiful animals and know that we are not really that far removed from them."
For her latest introduction with Loloi Rugs, designer Justina Blakeney of "Jungalow" fame dreamed up a contemporary faux-tiger series in both native and exotic colorways. Ironically named Feroz, which means fierce in Spanish, this tame version of animal skin is hand-loomed by artisans in India and then feline formed.
Blakeney said the idea for Feroz came to her after she found an antique Tibetan prayer rug at a flea market.
"I researched the history of these prayer rugs and learned that they tell a rich story of Tibetan culture and are full of Buddhist symbolism. They are traditionally on the smaller side and can be prohibitively expensive," she told Furniture Today. "I wanted to put my own spin on these rugs while paying homage to their Tibetan roots. My reinterpretation is a larger scale rug made of 100% wool and is a fanciful depiction of a tiger, an animal I love."
Domada is a newcomer to the upscale rug industry, paving its path with a niche business: cowhide-shaped vintage rugs.
Launched earlier this year as an e-commerce business and now expanding into wholesale, Domada Home sources its products from Morocco, India and Turkey, with more countries being explored. Most of its rugs average about 70 years old and feature a range of classic and traditional Oriental designs, and many are one-of-a-kind.
"I want my pieces to be unusual. I look through thousands and thousands of rugs looking for special pieces," founder Katherine Stevens said.
Her curated collection is cut and finished into cowhide rug shapes and dimensions, which include 6'-by-6', 6'-by-8' and 8'-by-8'. With a rapidly growing customer base, the company's plan is to soon add new sizes, from smaller dimensions of 4'-by-6' to roomsize 8'-by-11' styles.
"Hides bring an organic sense to spaces, but many responsive to this aesthetic shy away from them out of respect for the natural world," Stevens said. "Conscientious consumers are driving design away from doing harm, and our fusion of traditional, ethnic rugs with hide and skin shapes speaks perfectly to this market.
"Domada is proud to offer its cruelty-free collection. I love that we can make something special that feels organic but doesn't harm any animals."
Let's block ads! (Why?)