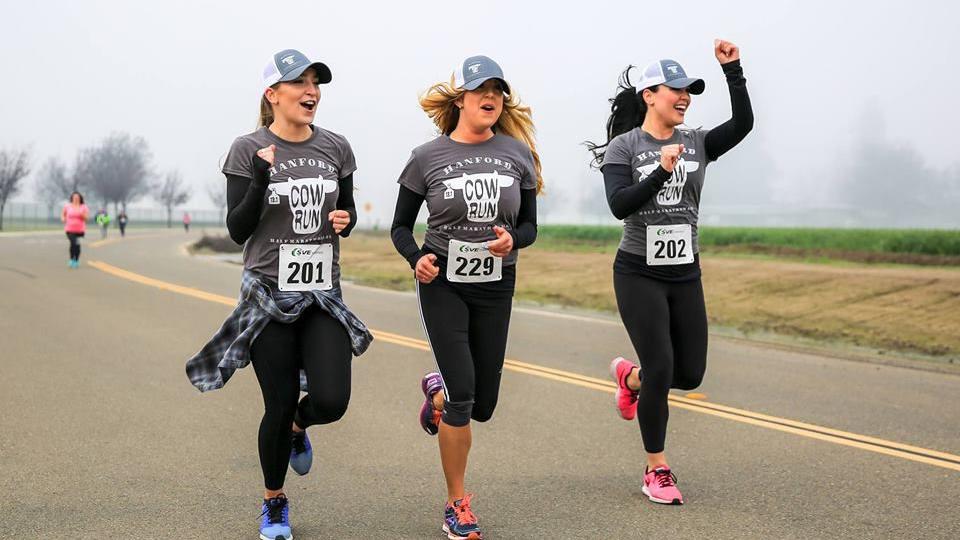 HANFORD — Slowpokes will have to moo-ve over during the annual Hanford Cow Run this weekend.
Entering its third year, the half marathon and 5K run is proving that the idea of a regular half marathon in Hanford has legs.
"We want to make Hanford the 'it' spot for running," said Run for All co-founder Eunice Rosas. "People come from all over to visit Hanford and participate in the race. They stay at local hotels and eat at local restaurants and that's what we've wanted. We want Hanford to stand out in the running community."
Runners come from all over the state, including Los Angeles, Salinas, Stockton, Sacramento and points in between, Rosas said.
The race begins and ends in the parking lot of Frontier Elementary School, near Mustang Drive in Hanford. Racers will head to Excelsior Avenue before turning back.
The route passes by landmarks like Kings Dairy Supply and Bertao Livestock.
The Cow Run was named as a tongue-in-cheek way to lean into Hanford's reputation with dairy, livestock — and the smells come that can come with them.
The half marathon run is a standard 13.1 miles, while the 5K is 3.1, a perfect length for those who don't want to get their calves too tired.
The race is a family event, Rosas said. Around 50 children under 18 are registered to participate in either the half marathon or the 5K run.
Funds from registration fees, which are $85 for the half marathon and $55 for the 5K after today, will benefit Valley Children's Hospital and mascot George the Giraffe will be at the race, cheering runners on.
"The kids get excited to see him," Rosas said.
The race has seen great support from Kings County officials and sponsor Adventist Health, Rosas said.
"About 100 of our employees will run this year," said Adventist Health Talent Acquisitionist Meghan Henshaw.
Through the Adventist wellness program, employees are sponsored to run in the race of their choice on the company dime. Running the race also earns employees "healthy living points" that they can accumulate to receive health insurance discounts.
Through corporate wellness policies, employees from Costco and Leprino Foods will also participate, Rosas said.
"That's what we want. We want more people to support their employees and give them an incentive to stay active, making them happier employees," she said.
Rosas and her husband, Cesar Rodriguez, took note that there isn't much in this part of the Valley for marathon runners outside of the Rockin' Rudolph Run in December and Visalia's End of the Trail Half Marathon and 10K in February.
But until the Cow Run began in 2016, Hanford's marathon scene had no legs to stand on.
The couple, who have owned AAA Mufflers & Tires on East Seventh Street for about 20 years, decided to start the nonprofit organization, Run For All, to bring a running culture to Hanford and promote active, healthy lifestyles.
The first year, the hopes were to get participation in the triple digits.
"We felt that if we could make our goal of at least 100 runners, we could make [the race] work," Rosas said. "And we completed it with 389 registrations."
Last year's goal was to try to repeat those kinds of numbers, erring on the conservative side. The organizers were hoping for 300 participants. They got 421.
This year's goal is 500 runners, a goal that Rosas said they're close to reaching.
Runners each get a goodie bag with a T-shirt, and a cowbell, customized with different colors each year, a collector's item for repeat runners. Trucker hats and other items are also included. All finishers receive a medal and cash prizes are awarded to the top three male and female finisher of each race.
Participants are also treated to a full post-run breakfast.
The organization is always looking for more sponsors, volunteers to help things flow smoothly and participants to cheer runners on.
Last year, Visalia's Chelsey Velde ran the half-marathon in 1 hour, 36 minutes, winning the womens' division, while Jesus Campos of Fresno, finished the race in 72 minutes.
"We're hoping someone beats that record this year," Rosas said.
Let's block ads! (Why?)