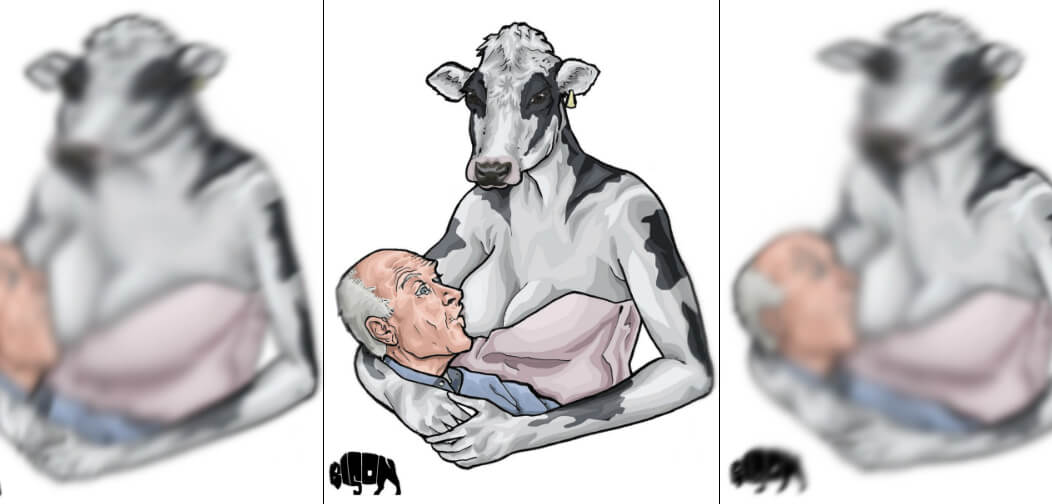 PETA is known for causing a stir on Twitter if it means sticking up for animals. In just the last few months, our viral tweets about animal-friendly expressions and Steve Irwin's legacy of tormenting wildlife have led millions to challenge their long-held speciesist beliefs and made countless people consider—some perhaps for the first time—that animals have a right to live free from human harassment and exploitation. That's why when we saw Miami rapper and artist freebison's startling depiction of a grown man "breastfeeding" from a cow, we knew that we had to share it with our followers. The cartoon is disturbing, just like the dairy industry, and it's certainly got people paying attention.
Looks weird right?

It's what you're doing if you drink cow's milk ✋ Raise your hand if you know that humans shouldn't be drinking cow's breast milk. It was made for their babies—not you!

Art by @choicebison @freebison 💙 pic.twitter.com/D8QcJnyfUG

— PETA (@peta) March 28, 2019
On social media, PETA uses evocative, emotional messaging, as we have mere seconds to stand out from the feed and grab people's attention. We see every interaction on social media as an opportunity to reach people, including those who may never have considered whether it's unnatural to forcibly impregnate mother cows and steal the milk meant for their babies or for humans to drink milk as adults (something that no other species does).
Super cool #vegan #thebisonmovement musicians and artists at my #FtLauderdale talk last night. pic.twitter.com/bNVP73iQrB

— Ingrid Newkirk (@IngridNewkirk) March 25, 2018
In addition to the eye-opening breastfeeding image seen in PETA's viral tweet, freebison's Instagram page is full of cartoons that highlight the often disturbing ways in which humans interact—and are intertwined—with other species. Check out some of our favorites:
View this post on Instagram

HAPPY #BISONDAY "MLK DAY THE VEGAN WAY" Tomorrow Is DR MLK JR day. In honor of Dr.Kings message of love, justice and equality; I AM VEGAN… Dr Martin Luther King Jr fought for the freedom and rights of oppressed people. As a vegan, I fight for the freedom and rights of oppressed animals. King's message of LOVE should not be limited to human beings. If King was alive today, he would most likely be a vegan, as was his wife Coretta Scott, and his son Dexter King!!! The fight for racial equality is not over, but we must understand the importance of general LOVE and COMPASSION for ALL LIVING THINGS, in order to fully achieve PEACE on Earth… ✌️♥️🌍 HATRED IS TAUGHT!!! LETS ALL BREAK THE CYCLE OF HOMOPHOBIA, SEXISM, RACISM, AND SPECIESISM!!! Join the BISON movement today & #GOVEGAN LIGHTLIFELOVE BISON ___________________________________ ____________________________________ #vegan #govegan #veganism #vegansofig #plantbased #holistic #mlkjr#drmlkjr #enviroment #health #miami #florida #music #digitalart #art #painting #martinluther #miamiart #miamimusic #hiphop #rap #environmental #miamivegan #savetheanimals #conspiracy #peta #animalliberation #onefamily #BISONDAY

A post shared by 🌱FREE BISON🌱 (@freebison) on Jan 20, 2019 at 5:46pm PST
View this post on Instagram

HAPPY #BISONDAY "FREE WILLY" Aquariums and zoos are often seen as educational… But all they're teaching us is cruelty. Take for example the orca whale, an intelligent , beautiful animal, whose home is the endless ocean… Now imagine this 10,000 lb being, crammed into a swimming pool… Orca whales in captivity endure high levels of stress, which causes the grinding of their teeth, the collapsing of their dorsal fins, and even psychotic behavior. The aggressive behavior of these whales has led to the death of many trainers… Since businesses like Miami seaquarium and Seaworld have opened,141 orcas have been captured… Of the 141 "killer" whales, only 15 remain alive… Maybe man is the true "killer"… STOP ANIMAL CRUELTY JOIN THE BISON MOVEMENT GO VEGAN ______________________________________ #BISON #THEBISONMOVEMENT #FREEBISON #FREEWILLY #VEGANRAPPER #PLANTBASED #love #SEAWORLDSUCKS #SUSTAINABILITY #LIGHTLIFELOVE #BISONDAY #DIGITALART #BROWARDCOUNTY #MIA #Dadecounty #rap #hiphop #miami #Florida #vegetarians #govegan #VEGAN #VEGANARCHY #veganism #vegansofig #veganlifestyle #veganart #veganmusic #veganliving

A post shared by 🌱FREE BISON🌱 (@freebison) on Sep 9, 2018 at 6:02pm PDT
Feeling Mooved? Go Vegan Today!
Cartoons aren't just for kids—but breast milk is! If this viral cartoon tweet got you thinking twice about dairy, we're here to help you kick that dirty habit. Check out these great 100 percent plant-based milks, then order your free vegan starter kit now.
Let's block ads! (Why?)