#ndn-video-player-1.ndn_embedded .ndn_floatContainer margin-top: 10px; margin-bottom: 20px;
#ndn-video-player-2.ndn_embedded .ndn_floatContainer margin-top: 10px; margin-bottom: 20px;
OSHKOSH — Five riders parked a truck and trailer early Saturday morning at the side of a narrow oil road through the Crescent Lake National Wildlife Refuge.
They toiled with fencing tools and baling wire in a brisk autumn wind, assembling a temporary corral and loading chute, then set off on horseback across two miles of remote refuge prairie that few visitors ever see. Their destination was the Graves Ranch, owned by the Nature Conservancy. Their mission was to round up 21 head of cattle from their summer range and drive them back to the corral. Their long day ended with a 160-mile trip home to Curtis, about 43 miles south of North Platte on the highway to McCook.
PHOTOS: Students on cattle roundup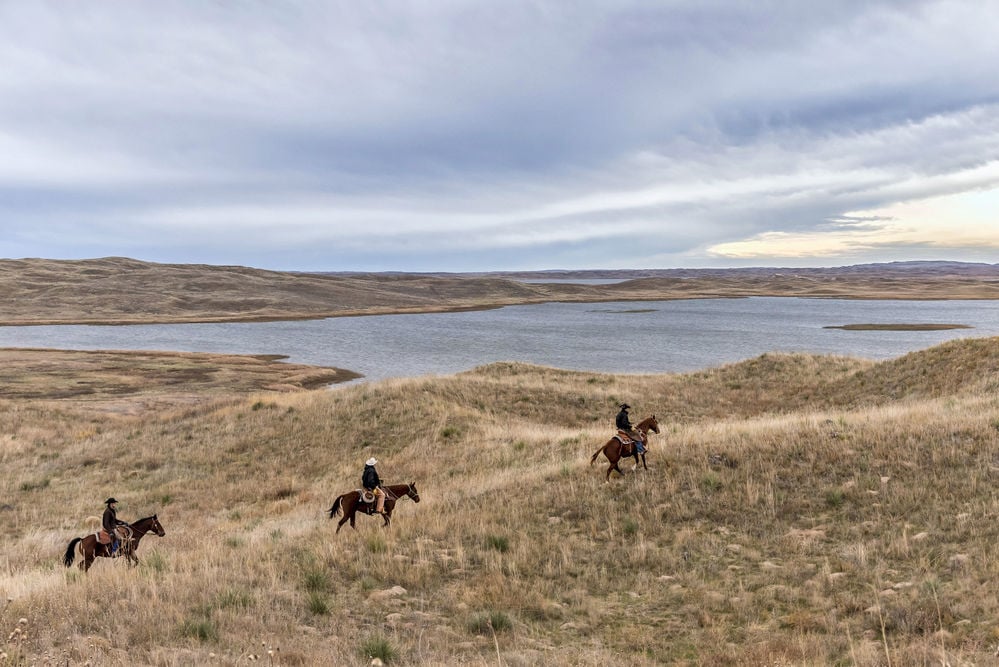 The roundup was a field trip with a purpose for four students of the Nebraska College of Technical Agriculture and their supervisor.
At the 840-acre ranch, a tarnished windmill spins and creaks, still drawing water 34 years after the conservancy bought the property in Garden County. Surrounded by broken water pipe and failing fences, a ramshackle cabin remains, abraded by decades of blowing sand and loosened from its foundation by the muscular bodies of Angus cattle that crowd against it for relief from prairie wind and harsh Nebraska winters. The conservancy's interest in the ranch lies in thousands of flowering prairie plants that thrive in pockets of sand known as blowouts, where the thin veneer of vegetation has peeled away from the underlying dunes. Known as blowout penstemon, the endangered plant was once thought to be nearly extinct. The conservancy acquired the land as a refuge where the delicate perennial, which requires bare sand to thrive, might maintain a sustainable, naturally producing population.
Part of the effort requires grazing. Cattle take the place of ancient bison herds that helped the penstemon evolve by exposing blowouts to winds that sustain the desired habitat. NCTA, part of the University of Nebraska family of campuses, provides the cattle, both as an aid to the conservancy and as a teaching tool for students in its veterinary, ranching and equestrian programs.
"The college leases the pasture for a nominal fee and pays the taxes on it," said Mary Crawford, who works for the NCTA in marketing and recruiting. "We consider this one of our field laboratories."
In spring and fall, students help move the cattle on and off the property as part of a range management plan.
"You need grazing to help the pastures," Crawford said. "There are different strategies for grazing when you have the endangered species, as far as carrying capacity. There is a real defined plan on when you can get on the grass and get off the grass."
While the college's cattle don't graze federal pastures, U.S. Fish and Wildlife Service staff allows students to cross its protected property on horseback to collect the grazers and drive them back to the loading area. They're supervised by Roy Cole, a Curtis native who serves as the college's farm manager. He handles college ag properties, which include a 580-acre farm, field laboratory and pastures near campus. Students learn to operate farm equipment and machinery, build and repair fences and corrals and study animal husbandry as they tend livestock. Cole works the Graves Ranch project with Douglas Smith, associate professor and chair of animal science and agricultural education and coach of the NCTA Livestock Judging Team, and Brad Ramsdale, associate professor and chair of agronomy and agricultural mechanics.
Because of the distance from the refuge to the campus, students spent Friday night at the refuge's bunk houses and were allow to pasture their horses and use other refuge facilities to ease their travel to the isolated ranch. After a truck arrived to carry away the cattle, they still had to break down the corral sections and tend to their mounts.
Two of the students on the cattle drive, KeAnn Jacobs of Dresden, Kansas, and Frances Holley of Weston, Nebraska, both veterinary technology students, also work for Cole. The other two, Garrison Fisher of Beaver City, Nebraska, and Damian Wellman of Almena, Kansas, major in livestock management and are members of NCTA's Ranch Horse Team. Like many of their fellow NCTA students, they're experienced hands who come from a farm and ranch background.
"We're not frou-frou show people," Wellman said of the horse team, which studies equine care, nutrition and riding skills. "We're people who know how to work a horse."
#ndn-video-player-3.ndn_embedded .ndn_floatContainer margin-top: 10px; margin-bottom: 20px;
Let's block ads! (Why?)