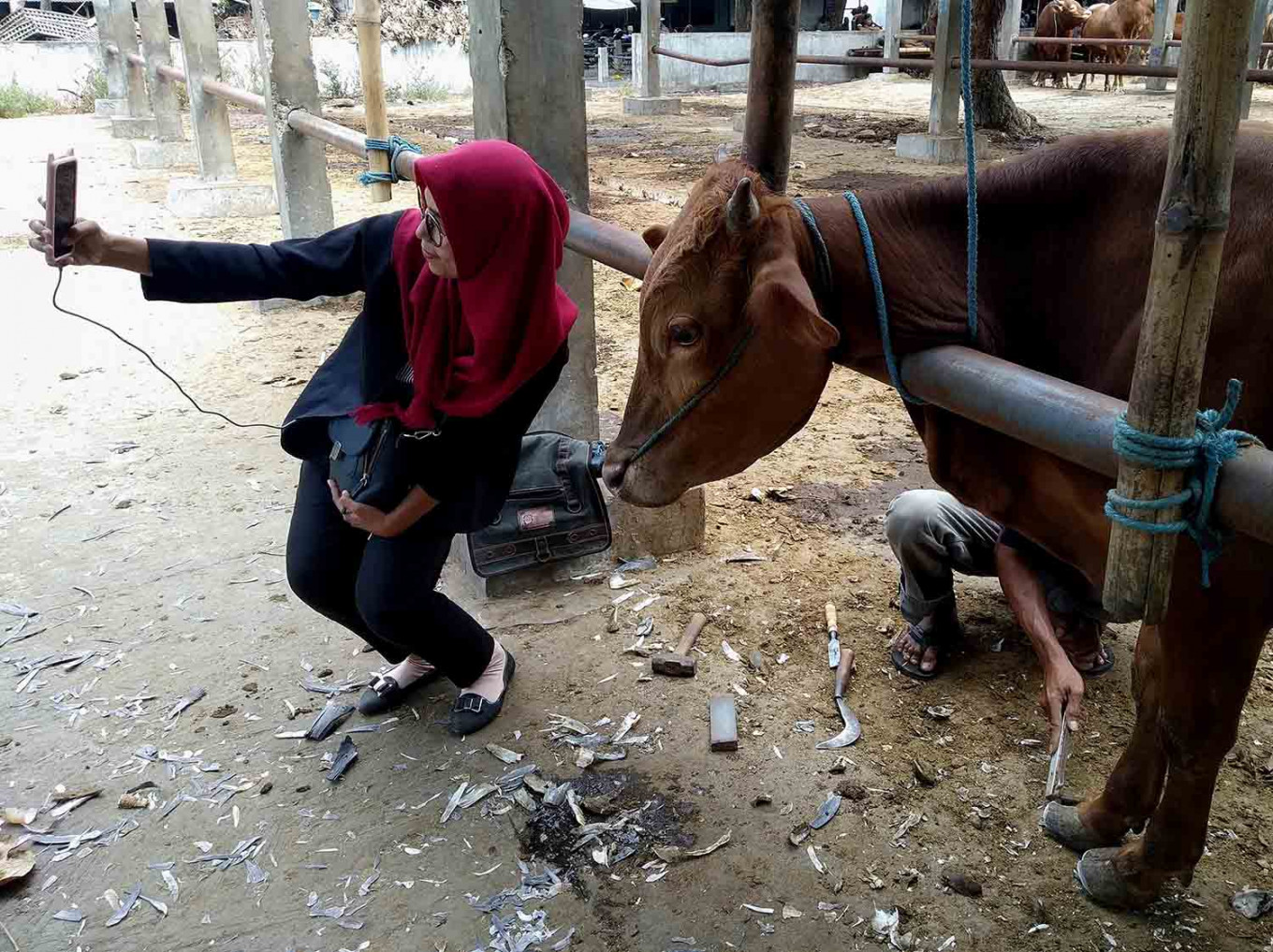 Asip Hasani
In the lead-up to Idul Adha (Day of Sacrifice), cattle traders can expect an increase in income as more cattle are sold for the holiday. For cattle groomers that specialize in hoof and horn services at Dimoro Animal Market in Blitar, East Java, expectations are the same, with spikes in income typical ahead of the religious day.
Cattle with cleaner hooves and horns are perceived to be healthier and better taken care of, making them more attractive to prospective buyers. As such, cattle-care vendors found in the depths of the market run what is known as the "cow salon" by traders in the area.
"It's still relatively quiet right now. A week before Idul Adha, however, it will start to get crowded", Dwi a 45-year-old owner of a cattle-care service at Dimoro market, told The Jakarta Post on Aug. 2.
Similar to manicure and pedicure services for people, Dwi provides the same service to clean cow hooves and ox horns at a rate of between Rp 20,000 (US$1.4) and Rp 50,000. Dwi's rate for trimming services and to clean two pairs of cow "nails" costs about Rp 30,000.
Cattle owners can choose from a selection of treatments or combination of treatments. "It depends on what you want.
There's also a service for hoof cleaning without the hoof trimming. There are also those who ask for the horns to be cleaned without being trimmed," Dwi said.
To provide the services, Dwi uses an array of tools, such as a hacksaw, hammer, chisel, sickle and knives.
On a single day, Dwi can clean the hooves and horns of between seven and 10 cows. However, Dwi cannot provide these services every day, as the cattle market is only open on certain days such as the day of Legi on the Javanese calendar.
Not all cows undergo treatment at the market. Usually, only the cattle that are sent out of town are the ones that undergo hoof and horn treatment, as they need to be sold sooner than the cows that end up staying in the province for Idul Adha.
However, cattle-grooming services are in demand even on normal days, as some farmers rely on cows at their homes. According to Dwi, taking care of a cow is beneficial to its health. (sal/mut)
Let's block ads! (Why?)