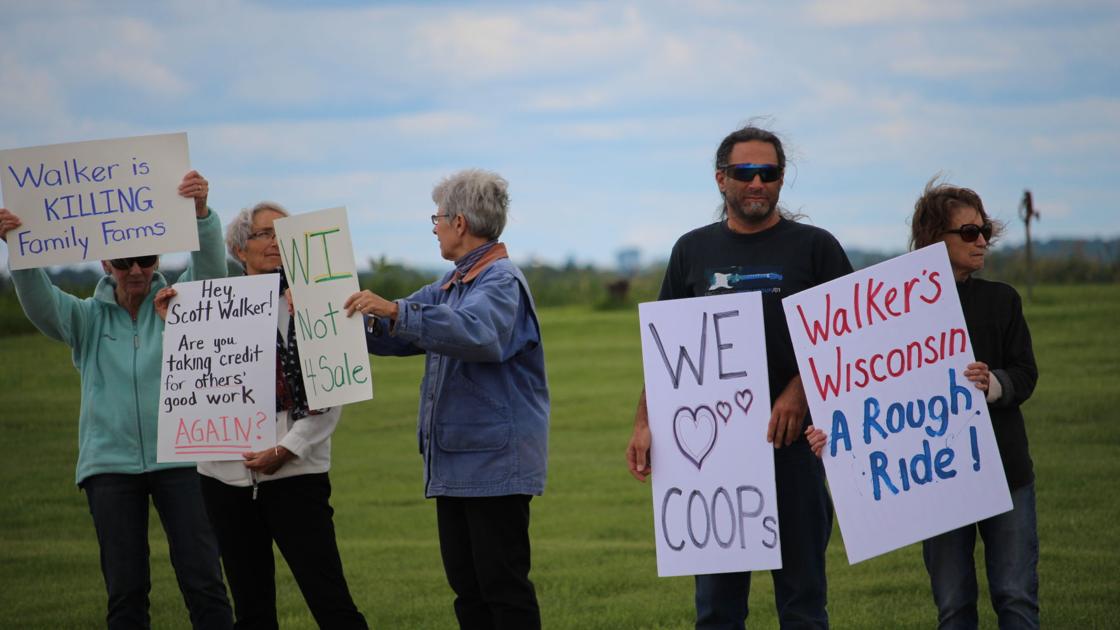 State officials and business leaders visited a local creamery Monday to celebrate its production accomplishments.
Westby Creamery Cooperative began in 1903 and is the recipient of many accolades for its products – including its award-winning cheeses. And that's what prompted the visit by government and business leaders, including the secretary of Wisconsin's Department of Agriculture, Trade and Consumer Protection.
The meeting was part of the "Wisconsin Cheese Day" tour. State legislators voted cheese as Wisconsin's official dairy product earlier this year.
Ben Brancel added another trophy to the Westby Cooperative's shelf − a signed plaque from Gov. Scott Walker congratulating the co-op on its recent expansion and history of success.
"Your ability to produce high-quality products is pretty impressive," Brancel said to members of the cooperative's directory board and company employees.
Westby Creamery recently increased its production capacity and took on more than 50 new employees. Almost 300 farms contribute to the company's supply of raw dairy, which is turned into value-added products like cheese, yogurt and sour cream.
The majority of the cooperative's dairies operate with about 60 cows per farm, according to the company.
Brancel said Wisconsin's dairy industry remains a cornerstone of the state's economy, but it's under threat from cheaper, cut-rate milk from out-of-state, undermining Wisconsin's farmers.
About half a dozen protesters stood outside the creamery as business and state officials met inside. They held signs to picket against Republican Walker's administration and treatment of small farms.
Protest organizers said Walker is allied to industrial farm industry through administrative policy, driving smaller farms out of business. Walker was not at the event.
When asked about alleged favoritism, Brancel said he has heard the concerns but isn't convinced of their validity. He said Wisconsin needs the large farms to meet production quotas, as well as smaller farms to bolster the artisan markets.
"I have yet to find the law that gives deference (to industrial farms)," Brancel said when questioned during the meeting.
Alicia Leinberger, organizer with Our Wisconsin Revolution, helped direct protesters. She said the protest wasn't directed at the Westby Creamery – one picketer even held a sign in support of the local cooperative.
Instead, Leinberger said, frustration was aimed toward the statehouse in Madison.
Leinberger alleges Walker is "bought" by the highest bidder − in this case, she said, the highest bidder is the industrial farm lobby. Small farms need help but aren't receiving it, Leinberger said, and large operations get breaks from economy-of-scale and what she believes are policy gifts.
She said there are ways to support small farms via new legislation − including an introduction of labeling laws similar to the branding on organic products.
"I would like to see a policy initiative that distinguishes products from a small family farm and large dairy farms," Leinberger said. "I think people would be willing to pay an extra 20 cents a gallon to help support small farms."
Rep. Lee Nerison, R-Westby, attended the meeting. When asked if he would support a bill to distinguish large and small dairy farm products, Nerison was noncommittal, saying he would need to read the bill's language to make a determination.
The meeting was closed to the public.
Let's block ads! (Why?)