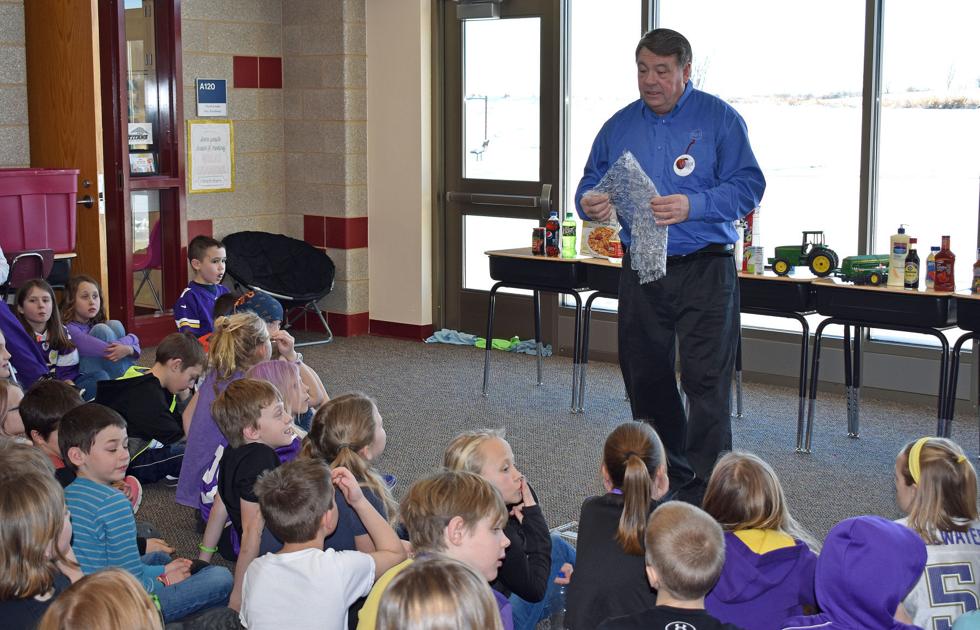 Corn, soybeans, cows and pork got the wheels turning inside the minds of TCU Lonsdale third-graders Friday thanks to "Farmer Kevin."
Nerstrand Farmer Kevin Estrem visits TCU Lonsdale Elementary on a yearly basis to educate kids about agriculture. He's offered his presentation for the past 15 years to 23 different schools, but he recently cut down to 18. However, Estrem made sure to keep TCU Lonsdale on his list.
"I'm not a teacher, I'm a farmer," Estrem told the third-graders. "And I love to farm because farmers do good things for you."
An assortment of foods and other items assisted in Estrem's lesson on the role of agriculture in the production industry. From corn to soy to meats, he explained a wide range of benefits consumers acquire from farmers' work.
Estrem invited the third-graders to name as many "corn" products as possible. The kids listed cornmeal, cornflower, corn syrup, cornstarch, and popcorn, and Estrem informed them of a few unlikely non-edible corn products. He told the students bubble wrap is made with cornstarch so it deteriorates over time, and the same concept is applied to plastic water bottles, which come with an expiration date due to the cornstarch mixed in the plastic. Corn also produces the ethanol in car gas, so Estrem encouraged the kids to share that information with their parents the next time they go to a gas station.
To harvest the corn, Estrem explained the process of planting rows of corn and combining them.
Soy is another topic Estrem covered in his presentation. Like corn, Estrem explained the ways soy benefits consumers. Students knew soybeans produce tofu, soy milk and soy sauce. Estrem said protein bars contain about 86 percent soybeans, and cooking spray also comes from soybean oil. Soy candles, even the wicks, come from soybeans. Because peanut allergies affect a number of people, Estrem said he's a fan of using soybeans as an alternative.
Estrem showed the kids a bottle of mayonnaise he left in his car during the warmer months. The soybean oil and egg white heated up and separated, so the kids easily viewed the high content of soybean oil in the product. Estrem explained that the high content of soybean oil doesn't make mayonnaise harmful because people typically only consume it in small amounts.
"What type of meat do we get out of a cow?" and "What do we eat from a pig?" were questions Estrem asked the third-graders when he shifted the discussion to meats.
Beef and steak come from a cow and make their way from the farm to to the kitchen table, but Estrem said even the non-edible parts of a cow don't go to waste. He said the skin of the cow produces rugs and carpets and also creates leather for notebooks, wallets, and coats. The bones might become silverware, flutes, drums or pet food. He said cow bones contain calcium for pets.
As a member of the Minnesota Pork Board, Estrem told the students his favorite animal is a pig. In addition to providing consumers with pork chops, bacon, ham, ribs, sausage and pepperoni, he said pigs help produce cosmetics. Estrem listed hand lotions, lip balm, moisturizers and vaseline as some of the products derived from pig fat.
A story from Estrem's youth illustrated a way pig skin saves lives. At age 15, Estrem said he was severely burned from the waist to the top of his head and lost skin. He spent 45 days in intensive care and two and a half years in the hospital afterward. While he said the "stop, drop, and roll," technique saved him, he's also here today because the doctors used pig skin for his skin grafting surgery.
To wrap up his presentation, Estrem gave each student a gift bag containing a pencil made from soybeans and another made from pork, a coloring book and crayons produced from soybeans, erasers and pamphlets containing additional information about agriculture. The students shouted a hearty "thank you" to their guest speaker before returning to their classrooms.
Let's block ads! (Why?)